Description
What is PhysioRoom.com Kinesiology Tape Blue?
Super thin, highly elastic therapeutic tape that provides support and compression for sports injuries, muscular tension and joint distortions.
When can I use it?
To support muscles during sports activities
To address muscular tension
To assist lymphatic drainage
To activate the endogenous analgesic systems
To correct joint problems
How is it applied?
Skin needs to be free of oil, sweat, lotion or water prior to applying the tape.
Apply the tape one hour prior to sports activity or showering – this allows the glue to adhere fully.
Try to avoid over-stretching the tape during application to avoid skin irritation.
Reaction to the tape is rare, but new users, or users with sensitive skin, should look for signs of irritation.
After application, the tape should be rubbed to activate the heat sensitive glue. NB Do not use a hairdryer to activate the glue.
Kinesiology style tape is designed to be worn for 3-5 days.
An hour after application it will withstand athletic activity and showering without coming off.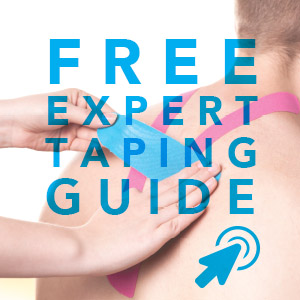 Tape composition
Fabric: 95% cotton, 5% spandex
Glue: 70g/m2 acrylic acid
Size
Large: 5cm x 5m (2″ x 5.5 yards)
How does it work?
Designed to have the same profile and elasticity of skin, PhysioRoom.com Kinesiology Tape is applied with medical grade, heat sensitive acrylic adhesive. Kinesiology Tape was originally invented by Dr. Kenzo Kase, a Japanese chiropractor, in the 1970s to closely support muscles and joints during everyday, leisure and sports activities, Kinesiology Tape provides compression and promotes healing, without restricting movement.
Used across a wide range of sports by leading athletes, including Gareth Bale, David Beckham, Ashley Cole (football), Serena Williams (tennis) and Kerri Walsh (beach volleyball – Beijing Olympic Games).